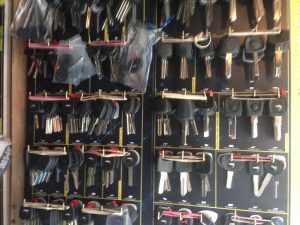 Car key replacement Essex call 07708 759815.  Serving all of Essex county and surrounding areas.
One of our engineers has  just came back from a customer in Rainham  Essex. Where the man a local plasterer had not used his smart car for quite some time. He had let the battery go flat on his vehicle, So he was not able to gain entry to the vehicle. Firstly we gained entry to the vehicle in a non destructive manner.  And from there we were able to get our battery starting pack on to put some life back into the car.  Unfortunately the time delay of not using the vehicle had actually caused to car key to lose its program. And so was now not paired with the cars immobiliser system, ( this is a common problem with the Mercedes Smart Car).
Our local Rainham based Car Locksmith was able to re program the old remote key. Whilst cutting and programming the man a new Spare remote key. The smart car immobiliser system is slightly different to most. As it uses the actual remote part of the key to immobilise the vehicle where as most makes of vehicle use the transponder chip data.
Car key replacement Essex cater for all your car related locksmith problems.  including vehicle immobiliser problems and Emergency key replacement in Essex. on the roadside or at your home for your convenience.  We have Local Locksmiths based in various towns over Essex so can usually attend to you within 30 minutes.
Some of our services include Keys locked in vehicle, faulty or broken car keys. faulty or broken locks. Stolen or lost car keys and not forgetting your Spare car keys and Remote car keys. Call us now for any key related problems on 07708 759815 to speak to your local Auto-locksmith.
Car Key Replacement Essex